ePC retain place on the G-Cloud framework with new and improved cloud services
Process Director by BP Logix recognised in the Gartner 'Magic Quadrant for iBPMS' for 2015
ePC is pleased to announce Process Director by BP Logix has been recognised by Gartner in the "Magic Quadrant for Intelligent Business Process Management Suites (iBPMS) 2015″.
According to the report, the iBPMS market is the natural evolution of the earlier BPMS market, adding more emphasis on support for greater system and human intelligence within business processes. Capabilities such as "what if" process simulation, optimisation and the ability to gain insight into process performance have been included in many BPMS offerings for several years. iBPMSs have added enhanced support for human collaboration, integration with social media, mobile access to processes, more analytics and real-time decision management. An iBPMS orchestrates work to produce business outcomes that go far beyond typical process efficiency and performance measures.
For its 2015 iBPMS Magic Quadrant, Gartner evaluated platforms based on their ability to orchestrate increasingly complex work styles.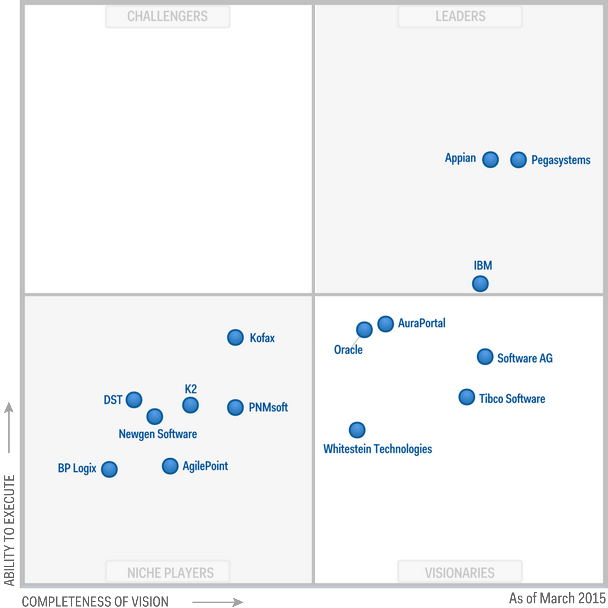 Gartner noted, BP Logix Process Timeline technology provides the process owner with key insights into the behaviour of each process instance. If, at any point, it determines that any future task—or the process as a whole—is in danger of running late, then Process Director can take action directly, or notify the process owner to intercede manually. Process Timeline is easy to use and flexible. Tasks can be linked dynamically using rules or by identifying predecessors. Ad-hoc and improvisational tasks can be easily added to a process as needed. Additionally, BP Logix Elastic BPM cloud is offered in single-tenant and multi-tenant deployments. The multi-tenant offering provides an attractive entry point for smaller applications, while the single tenant offering supports more robust enterprise requirements.
BP Logix deserve to be recognised by Gartner as they continue to provide great software with real power that is far more dynamic, flexible and cost effective than many of the quadrant long-timers

Alan Ingram, Technical Director, ePC