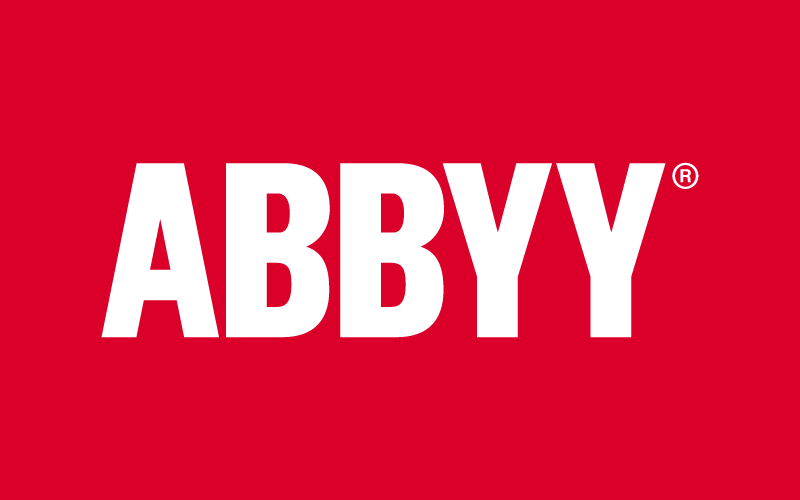 ABBYY FlexiCapture
With its powerful algorithm, ABBYY FlexiCapture is a highly scalable data capture solution for intelligent and accurate extraction of data from structured (questionnaires, tax returns, tests), semi-structured (invoices, purchase orders, waybills) and unstructured (letters, contracts, articles) forms and documents for input into backend applications for further processing and archiving.
ABBYY FlexiCapture provides a real alternative to manual data entry and other traditional forms of data input.
Learn more
Book demo
Key features
Create scannable forms

ABBYY FlexiCapture includes FormReader, a graphical design tool designed specifically for creating and distributing machine-readable fixed template forms such as questionnaires, examination forms or insurance claim forms.

Form development in ABBYY FormDesigner minimises human involvement later as the recognition engine identifies and evaluates scanned image files by matching them to form templates created in the FormReader.

You can distribute a form you created and published in ABBYY FormDesigner in hard copy or electronic format (as a PDF form). Electronic forms may be sent out by eMail or published on a website.

Scan paper surveys

ABBYY Scanning Station is a data capture solution for the batch scanning and indexing of large amounts of paper surveys and forms. Once the forms are returned, they are placed in the automatic scanner feeder and scanning begins.

The high-volume document scanning solution allows you to:

manage your scanner, i.e. initiate and stop the scanning processes and make the necessary scanner settings
control the quality of scanned documents and images
prepare images for subsequent processing

Remote scanning software

A Web Scanning Station is available for remote scanning of paper documents and sending them to the server for further processing.

Document sorting and classification

Scanned document images are submitted for automatic document classification. The documents can be sorted by types (e.g., driver license, bank statement, tax form, contract, invoice, etc.) and custom subcategories (e.g., invoices from vendor A, invoices from vendor B, etc.) by text content and image patterns.

OCR, ICR, checkmark and barcode recognition

At the recognition stage, document images are assembled into multi-page documents or document sets. Their content and data are intelligently extracted and validated automatically in an unattended mode.

Intelligently extract data from paper forms

The data capture solution uses the following OCR/ICR/OMR and barcode recognition technology to read and extract data from scanned documents:

optical character recognition of printed text in up to 200 languages.
intelligent character recognition for hand-printed text in over 130 languages.
barcode recognition for a variety of 1D and 2D barcodes.
optical mark recognition for a wide range of checkmarks.

Data validation and verification

Built-in validation rules are automatically applied during recognition to increase accuracy. Automatic data validation ensures high quality of data and reduces the need for subsequent verification.

If the forms processing software is uncertain about a field or character, it is marked as unreliable and highlighted to a human operator for review and correction if necessary.

The software loads rule checks automatically. Fields whose values satisfy the rule conditions may be marked as reliably recognised and excluded from the verification process. Fields whose values do not satisfy the rule conditions should be submitted for verification.

Verification is a two-stage process consisting of group verification and field verification. Group verification allows verifying the similar checkmarks or digits across batch of documents by displaying all discovered versions in a single Verification window. Field verification mode enables automatic checking of data fields one by one, or the characters in a field.

Remote web verification

A Web Verification Station is available for remote verification of recognised data, processing problem batches and documents, checking document assembly errors, checking rules, and ensuring batch integrity.

Data export

ABBYY FlexiCapture automatically exports verified data from scanned documents to different file formats or backend databases, including:

corporate file storage repositories – SharePoint, Laserfiche, etc.
ODBC compatible databases – Oracle, Microsoft SQL Server, and Microsoft Access
ERP and ECM systems – SAP, Microsoft, IBM, Sage, MYOB, Acumatica and others
smooth integration with RPA workflows to delivery data in legacy systems

Web-based monitoring

ABBYY FlexiCapture enables 24/7 web-based monitoring from any physical location.

It provides multi-level administration, automatic notifications for critical failures, and comprehensive reporting. Based on the statistics, you can make changes to your current configuration or re-allocate resources.
Key benefits
Some of the benefits of automating a manual process with ABBYY FlexiCapture data capture solutions include:
Single solution for processing all types of documents
Intelligent data capture solutions enable processing of fixed forms or semi-structured documents.
Reduction of manual workload
Automated character and text recognition from scanned documents will eliminate time-consuming and expensive manual processes and reduce the workload of employees.
Highly scalable
From a low volume, standalone installation to a high-volume, distributed client-server solution, ABBYY FlexiCapture scales with your business needs.
High quality data output
Highly accurate document recognition technologies, automated rule checks, and desktop verification and monitoring mean you can be confident only validated data will be outputted.
Automated data export
Export data to any backend application via XML or ODBC database.
Reduce processing lifecycle
Reducing manual intervention expedites the processing lifecycle of documents.
Cost savings
Reduction of operational costs for indexing, document separation and data extraction. Costing savings are likely to be accrued from freeing up valuable floor space as paper files are no longer needed as images and verified data is stored digitally.
Faster ROI
Elimination of labour-intensive manual operations guarantees a quick return on investment.
Flexible integration
Custom modules, enhanced scripting and custom export features allow ABBYY FlexiCapture to be integrated into any business application.
ABBYY FlexiCapture FAQ's
What is ABBYY FlexiCapture?
How much does ABBYY FlexiCapture cost?
How to install ABBYY FlexiCapture?
Are there any alternatives to ABBYY FlexiCapture?
What is the latest version of ABBYY FlexiCapture?
Book an ABBYY FlexiCapture demo
If you want to learn more about ABBYY FlexiCapture, or wish to book a demonstration, please complete the form below:
We will not share your details outside of our organisation and will only contact you to discuss your enquiry. Read our privacy policy.