Adecco Group manage timesheets from temporary workers with TeleForm software
The Adecco Group provides payment, billing and accounting support for a number of high profile recruitment agencies in the UK and Europe and is a leading provider of staffing, consulting and solutions in the disciplines of information technology, finance and accounting, law, engineering, and healthcare.
With over 120 branch and 50 onsite locations across the UK & Ireland, The Adecco Group payroll 25,000 temporary employees every week and work with over 6,000 clients in all sectors of commerce and industry.
The challenge
Adecco required a timesheet processing solution to manage timesheets faxed by temporary workers each week more effectively, pay wages and bill the recruitment clients.
The solution
A 16 line ZetaFax server that receives faxed timesheets and passes them to the TeleForm software which automatically reads the handwritten information. This is delivered directly to a bespoke electronic verifier which checks and matches temp data with the client's booking record to ensure that the hours worked and the hours requested by the employer match. The timesheet is merged with the client's bill electronically, ready to be printed or emailed, and the invoice is sent to the accounts department for payment. All data is stored in our document storage and retrieval system, eStore.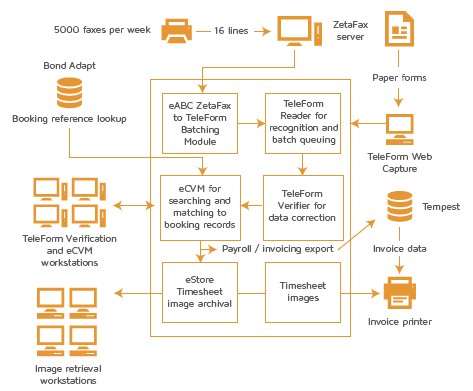 Adecco Group had a fax scanner prior to installation but the new set-up is quicker and, combined with TeleForm verifier and eStore, processes are more efficient. eStore allows Adecco Group to retrieve timesheets easily - simply by inputting a Temp's ID number while Timesheets and booking forms are matched with any discrepancies highlighted to an operator for review.
We have saved time and streamlined our processes by implementing this impressive, simple-to-use and accountable solution

Chris McLeod, Systems Analyst, Adecco
If you want to learn more about web-based recruitment software, or wish to book a demonstration, please contact us.