Exam paper scanning
The next step in the process is the exam paper scanning of completed assessments for marking. This is achieved by converting the answer sheets into a digital format for processing. We have three options, depending on your deployment.
Scanning exam papers
The first option involves the on-site deployment of data capture software. Venue staff will collect completed answer sheets at the end of the exam and feed them into a high-speed document scanner to begin image processing, verification (correction) and indexing.
Secondly, for larger deployments, remote scanning and capture is available via a web portal (see below).
Thirdly, if you opt for our document scanning services, we will arrange for collection of the completed exam papers and process them accordingly.
Remote scanning via web portals
This deployment option is suitable for larger deployments covering hundreds of centres and/or several countries.
Post-exam, staff will gather the answer sheets at the exam venue and scan exam papers by simply feeding them into a high volume document scanner. The scanner is connected to a scanning application (see screenshots below) which is launched via a link on the web portal and runs on the local PC.
Once launched, it provides the venue with scanning, reconciliation, error rectification and transmission of answer sheets.
Once batches are scanned, any issues, such as poor-quality images, missing or unordered pages etc. are shown to the operator with a easy to understand, colour coded warning and error display.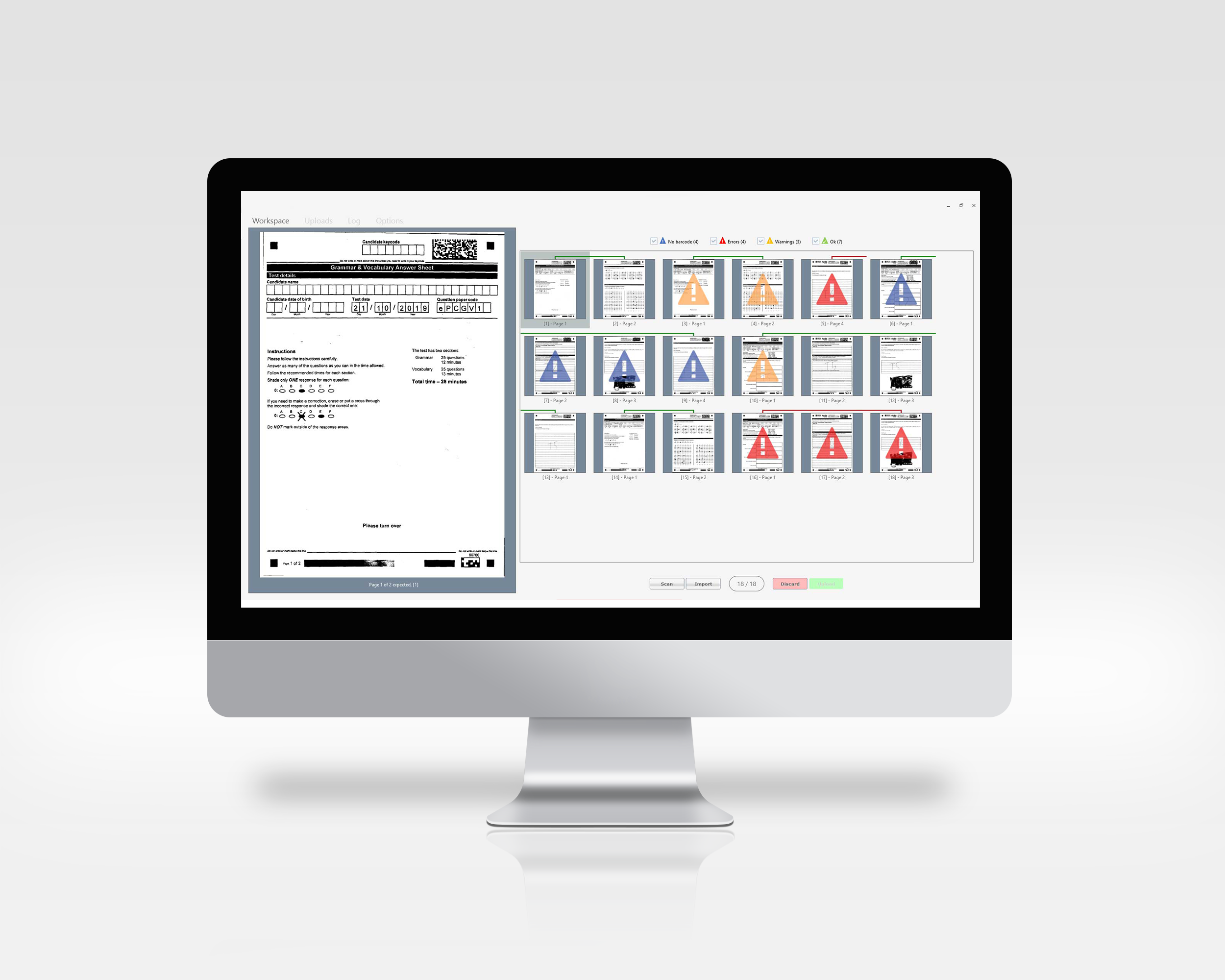 Key features
Real-time validation
During the scanning phase, the image will be subjected to real-time tests to identify the candidate, confirm the page is complete and check the hand-written responses can be read. Examples include:
Confirm the presence of barcodes and cornerstones
Check page orientation and rotate if necessary
Review brightness bars
Check for duplicate images
This real-time reconciliation and image validation results in markers only viewing images that meet quality thresholds and are linked to candidates. If a scanned image fails to meet the expected threshold, the centre will be alerted that a re-scan is necessary.
Traffic light warnings
A traffic light system alerts the centre to problems with warnings (orange) classified as user acceptable but errors (red) will prevent batch upload until the issue is fixed.
Uninterrupted scanning
To enable uninterrupted scanning in the event of poor internet connectivity, test papers are cached on the local PC and uploaded in the background. This way any interruptions in Internet connectivity will not delay scanning.
Exception reporting
As well as answer scripts, centres can upload an exception report to identify any absent candidates or test papers that have not been uploaded due to other reasons, such as malpractice investigations.
Batch reference
Once the centre has finished scanning and the images have been transmitted, a batch reference number is generated to confirm the test papers have been received successfully. This reference acts as a proof of delivery and can provide a way of identifying a batch should any pages within it need re-scanning.
Reconciliation
Scanning locations will upload the invigilators' report containing absentee, partial attendance and malpractice lists. eXam will reconcile scanned exam papers for a test centre to those expected for that centre, instantly highlighting any issues.