eFlex
eFlex provides a powerful solution for your system monitoring, alerting and processing needs.
It offers triggered events from databases, files, event logs and periodic timings. These triggers can be used in combination to launch actions such as database updates, file handling, reporting, eMailing, PDF generation, SMS messaging and advanced bespoke actions that are critical to your business processes.
ZetaFax to TeleForm connector
The ZetaFax eFlex plug-in allows for seamless integration between Equisys ZetaFax and TeleForm. It supports all versions of ZetaFax from V5 right up to the current version.
It supports multiple ZetaFax inboxes, which allows for DDIs or fax routing to be used to divert faxes sent to different numbers or from different recipients to different TeleForm jobs. It also supports both non-batch and batch-mode processing in TeleForm, which allows you to benefit from a more robust way of processing faxes with the batch features of job configurations and form security available within TeleForm.
The flexibility of eFlex allows for more advanced configurations to be implemented, such as sending inbound faxes to both TeleForm and an archive simultaneously, recording an audit log of all received faxes or monitoring both a live and fail-over ZetaFax server for seamless continuity in the event of a telecoms or server failure.
The built-in TeleForm to ZetaFax connector didn't support these features but in addition, OpenText has recently dropped support for ZetaFax completely in favour of its own fax solution. eFlex with the ZetaFax plug-in brings back full TeleForm support for ZetaFax again whilst adding a wealth of additional features.
System reporting
eFlex integrates with Crystal Reports allowing you to produce automated timed or event-triggered reports. These reports can be stored immediately on your network, or automatically emailed to the right users. Data from your system can be passed to, and integrated within, reports for powerful dynamic reporting.
Screenshot in eFlex Designer

Example
You require a report to be generated weekly, detailing staff activity with the TeleForm application. Such a report would identify where productivity improvements can be made in your system design.

File management
Having an effective file-trigger system offers powerful system flexibility. eFlex can be configured to monitor one or many network locations for the presence of files that match your search criteria. When such files are found, they can be automatically moved, updated, emailed or used as a trigger for some other process.
Screenshot in eFlex Designer
Example
Many companies use a network scanner to scan images across the LAN. Normally, it is the task of an employee to browse to the location of the scanned images and to handle them individually. eFlex could be used to move them to a new sub-folder created by date, or to alert an office member by email if the number in the batch is excessive.

Returns monitoring
How do you monitor out-going and returned forms? eFlex has the ability to monitor data tables of paper, fax or e-mail forms and generate periodic warnings or notifications to the recipients.
Screenshot in eFlex Designer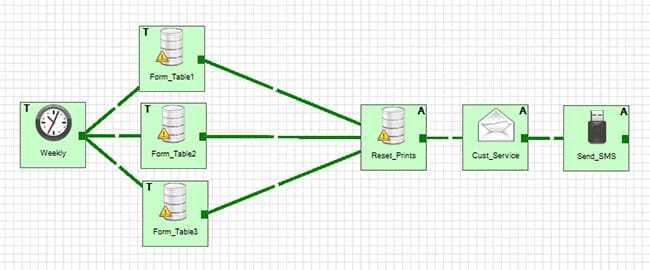 Example:
A temporary employee may need to submit a timesheet for their work record. As soon as the timesheet is created, eFlex will send an e-mail to the employee for completion. At the end of the week, it can issue a reminder message via SMS. A week later, eFlex will automatically send a report to the departmental manager which list all staff with outstanding timesheets.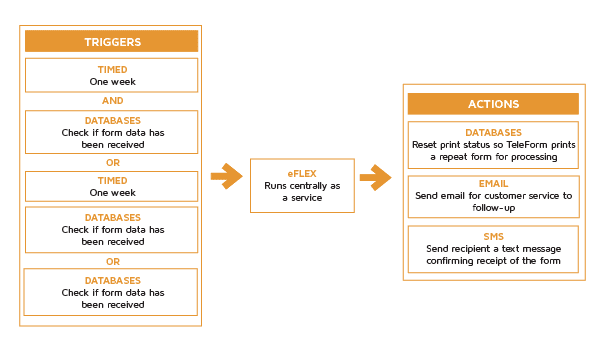 If you want to find out more about our BPM and data capture solutions, or wish to book a demonstration, please contact us.