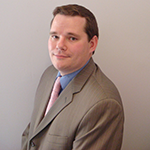 Alan Ingram
Alan's biography
Alan established ePC to support Cardiff Software solutions following their acquisition by Verity in 2004. Over the last ten years, Alan has established ePC as a dynamic, focused and financially secure company delivering complex data capture and business process management solutions to both the public and private sector - backed up by a strong customer service ethos.
Boasting over 15 years' experience within the data capture industry, Alan has sold, installed, operated, developed, trained and supported data capture and workflow solutions from industry leaders such as ABBYY, BP Logix and OpenText.
Alan is responsible for the strategic direction of ePC's technical services and managing relationships with key client accounts.
This email address is being protected from spambots. You need JavaScript enabled to view it. | https://uk.linkedin.com/in/alan-ingram-0486281