Automate workflows and repetitive tasks with Process Director
Process Director is the only BPM software to offer two web-based workflow designers for building and executing your automated workflows:
Additionally, you can combine linear workflows and advanced Process Timeline to create rich, sophisticated processes that take advantage of the strengths of each model as needed.
Key features
100% web-based graphical interface
No programming required
Rules-based business logic supporting dynamic workflow routing
Due date and duration management with escalation
Advanced workflow processing (sub-workflows parallel processing, conditionals, reminders)
Fully auditable
Workflow automation
When thinking of automated workflows, most people think of flowcharts that link one step after another into a chain. Many business processes work well when thought of this way and Process Director allows you to represent a string of events in a flowchart with design principles such as decisions, parallel steps, loops, approvals, notifications etc.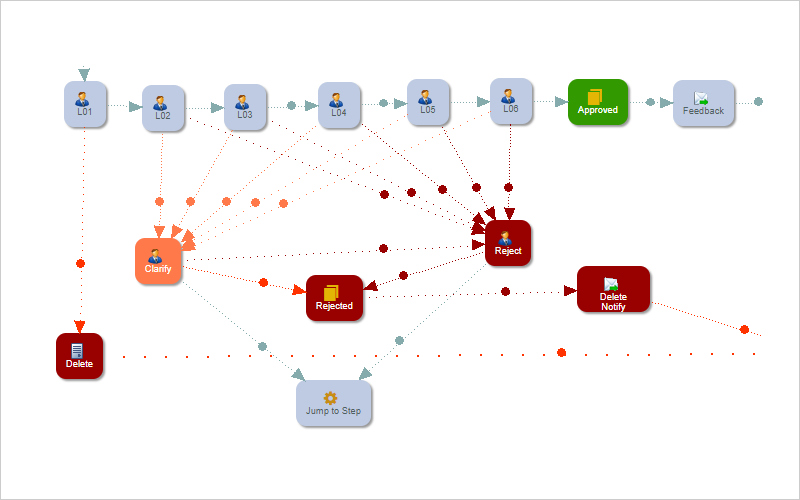 Workflow definitions in Process Director are created in a graphical interface, and consist of a series of logical steps, each of which are linked by branches to the previous and subsequent steps. The workflow defines the path or route that a form or document must take. Each step in the workflow path defines the task type, the participants, and the rules that govern how the workflow will advance or transition through each possible branch to the next step.
Designers who model business processes can implement branching, recursion, parallel and/or serial tasking, and essentially unlimited levels of approval or user tasking.
Every Process Director task can be configured to trigger escalations (automatic reassignment to another user, such as a supervisor) and notifications (with configurable frequency and recipients).
Request a demo
BP Logix Process Director is a low-code workflow automation platform, driven point-and-click configuration, not complex programming efforts.
Request a demo today and discover how you can build and automate any business process imaginable with Process Director.
We will not share your details outside of our organisation and will only contact you to discuss your enquiry. Read our privacy policy.