Is low code the future or overhyped?
Is low code the future or overhyped?

With industry analysts predicting strong growth for low-code platforms, we evaluate the concept and ask: is low code the future?
Low-code application platforms (LCAP) have been growing in popularity for several years. The pandemic has driven interest and adoption due to the need for organisations to embrace digital transformation and automate business processes quickly.
This is supported by the latest forecasts from Gartner who predict the worldwide market for low-code development technologies is projected to total $26.9 billion in 2023, an increase of 19.6% from 2022.
With LCAPs in the Slope of Enlightenment phase of the Gartner Hype Cycle (see Fig. 1), this blog evaluates the low code concept and considers whether it's delivering on its early promise.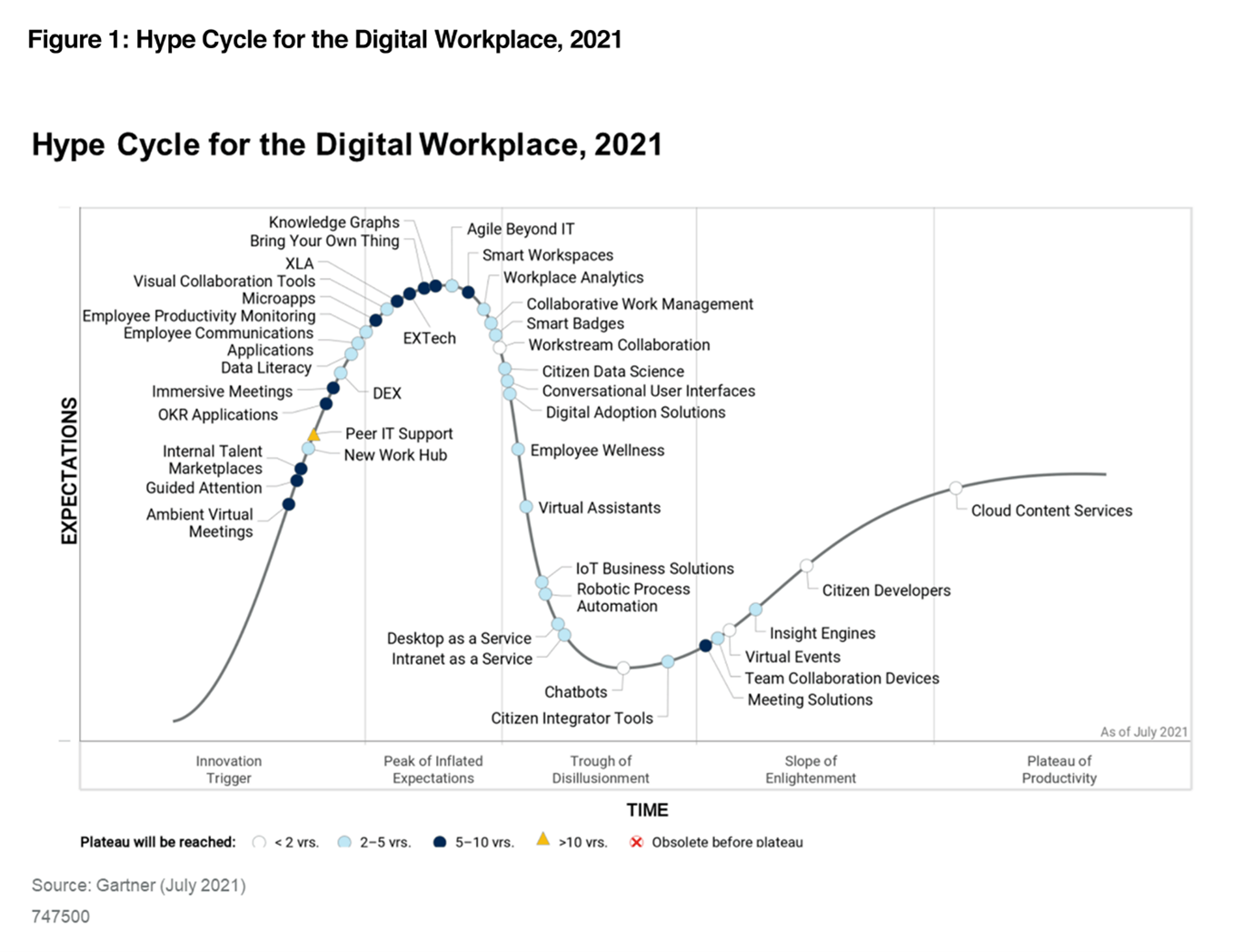 First, let's consider what is low-code/no-code.
No-code vs low-code
No-code is what it sounds like, namely business users automating business processes with no coding knowledge. The focus is on using visual point-and-click tools and pre-built templates to build apps/user interfaces, but users have limited (if any) ability to edit code. It is possible to go live in weeks with little training.
Low-code development is aimed at software developers in IT teams who take advantage of existing no-code building blocks to create apps in less time but also have the flexibility to edit code for greater power and create extensive customisations where required.
What is a low code?
Low-code platforms empower citizen developers to build digital applications quickly.
For anyone with little or no coding experience, these platforms replace the need for programming by using drag-and-drop form designers, point-and-click workflow engines and pre-built integrations to launch processes quickly.
What are the main features of a low-code platform?
Some of the most common features of a low-code platform include:
Pre-built, editable form and workflow templates (e.g., employee onboarding)
WYSIWYG form builder
Point-and-click process modelling/workflow engine
Access third-party integrations
Limited (if any) code required
Suitable for business users, not programmers
LCAPs reduce the complexity and learning curve associated with traditional BPM or no-code platforms, allowing you to be agile in the face of a changing competitive landscape.
Benefits of low code
Graphical and intuitive
Graphical and menu-driven builders for every part of your LCAP: forms, rules, workflows, data connections, etc.
Reduce time to market
Create workflows and new processes quickly in response to the ever-changing needs of your industry – without software developers or third-party vendors.
Quickly adapt to change
Another benefit of a low-code platform is the flexibility to change business processes in response to strategic objectives or market trends. Business users can easily alter in-flight processes to meet changing market conditions to stay ahead of the competition.
Cost-effective
LCAP can mean less reliance on vendors for development, training, and support.
Simple and intuitive UI
Create visually appealing UI elements using drag-and-drop form designers, point-and-click workflow builders and configurable business rules to deploy digital applications at pace.
Disadvantages of low-code platforms
Despite the excitement, the low-code/no-code movement is not without criticism and Forester have warned buyers that "hype haunts low-code platforms". Some of the challenges are outlined below.
Limited customisation
Low code is a great way to build simple apps quickly but what happens when you decide to add a new feature?
It's almost guaranteed that further down the line you will want to add a new feature that may not be available or needs to be coded by software developers.
Integration
Most businesses today rely on a plethora of applications, information, and services. Without them, they would not have a complete picture of what their company is doing or how to address problems as they arise.
Some of these tools will be in-house/legacy and the LCAP may not provide an API to connect with them and complete a task. In such scenarios, you will either need a developer to code the integration or may have to accept limited functionality.
Vendor lock-in
A commonly cited problem with low-code platforms is becoming too dependent on a single vendor. If you decide to leave the vendor, your investment in time and effort spent building apps will not be transferable to another LCAP; you will have to start again.
Beware the 'citizen developer' dream
The term citizen developer is commonly used today and refers to business users who build applications to meet a business requirement but beware the dream.
The reality is the role of a citizen developer is an extra task in addition to their actual job as they are unlikely to work in IT. As a non-IT person, do they have the time to build the tools they need to do their job, or would they rather leave it to the experts?
How much IT knowledge is enough
In our opinion, you must have a good level of IT literacy to ensure best practices, security, scalability, and compliance when building apps with low-code platforms. A solid technical background combined with training and vendor support is a must-have for even low code success. This means low-code\no-code might help an IT team build a process quickly, but it is unlikely to help a non-IT person build something from scratch.
Cloud only
With most low-code\no-code platforms cloud-based and subject to per-user, per-month subscription pricing, you should give some thought to whether this deployment option is suitable for:
highly sensitive data subject to GDPR
low-frequency use but long-term processes
public-facing anonymous users
Will low code replace developers and vendors?
As we have seen above, low code offers limited customisation options.
At some point, most organisations will require a new feature or integration that may not be possible through the point-and-click tools available. At that point, more advanced technical or development skills may be required, so good-quality developers will always be in high demand. This is especially true as the acceleration of digital transformation initiatives gathers pace post-pandemic. IT consulting company Accenture found that demand for tech professionals in the UK increased by 40% in the first six months of 2022.
While low code development has undeniable benefits, do business users have the technical knowledge and crucially the time and desire to build these applications?
Consider the case of an NHS consultant. They might need to capture data from patients enrolling in a clinical trial, but their day job involves lifesaving surgery. They can quickly describe what information they need to collect but cannot spend their day building an application to capture the data because they have patients to treat.
Another example is the HR Manager who needs to automate new employee onboarding. Do they have the time to build a new HR process when faced with recruitment, payroll, annual appraisals, disciplinary meetings, and more?
In both scenarios, we recommend commissioning a BPM vendor to build a low-code solution.
Is low code the future?
So, in conclusion, is low code the future or is low code a fad?
The answer is a little more nuanced. Low code platforms have advantages over traditional development, but they are not the best answer in every scenario.
When to use low-code platforms
In the BPM space, low-code platforms are a good option for small departmental processes that require quick, simple solutions with little customisation. Small and medium-sized businesses seeking to accelerate digital transformation efforts can also benefit from low-code platforms for simpler needs. In our opinion, you must have good technical skills as well as the time and desire to build the solution. We recommend purchasing the training and support services from the software provider.
If you are a large (or regulated) organisation with complex enterprise-wide processes spanning multiple departments/locations/geographies or need extensive customisation/integration, we recommend working with a BPM vendor to achieve the best results.
Low code or vendor
Whatever path you choose, ePC has the solutions and expertise to support you.
If you have the skills and capacity and want to take the low-code route, you can get up and running quickly with Process Director, a low-code business process automation platform that enables citizen developers to automate manual tasks.
If required, we can provide training and technical support to your team to empower them to build a solution internally.
But…
…while Process Director is incredibly intuitive, we know that many companies do not always have the time or available resources to achieve what they want.
At ePC, we're a committed implementer of technology solutions and have a team of skilled developers and process experts available who can build a fully operational bespoke solution for you including forms, workflows, and interfaces.
Please book your demonstration today or call us on 03300 100 000.